Open Lab and Space Booking
Please check the calendar below for our periodic Open Lab times. Open Lab is shared drop-in hours where everyone is welcome into the lab for experimentation and exploration.  Come talk with the lab's artistic and technical staff, do independent work, dance, utilize the lab's technology (including motion capture, VR, and film) – share the space with other artists and thinkers!
Please kindly note the lab is not a REHEARSAL SPACE , nor an EVENT SPACE and functions as a laboratory for investigation and inquiry at the interface between human movement, performance and technology.
After hours, we are open by special arrangement and as per project. Note that the Lab observes the Barnard Academic Calendar and will be closed when there are no classes, unless otherwise posted.
If you are interested in reserving this space, please fill out this booking request form. Contact movement@barnard.edu with any questions.
Calendar
Location and Accessibility Information
Entrance: The Movement Lab is located on the Lower Level of the Milstein Center in room LL020 and is ADA compliant with a no step entry. We have level access from the sidewalk to Barnard's main walk through the Barnard Main Gates (on Broadway and 117th street) and a ramp from the Claremont Street entrance directly to the Lower Level. There is elevator access to the Lower Level of the Milstein Center, as well as signage for directions. Map of the Lower Level of the Milstein Center below. 
Restrooms: Restrooms are located on the same floor as the Movement Lab. There are two single occupancy, wheelchair accessible with handrail, gender neutral restrooms near the elevators, as well as a women's multi-stall and wheelchair accessible with handrails restroom.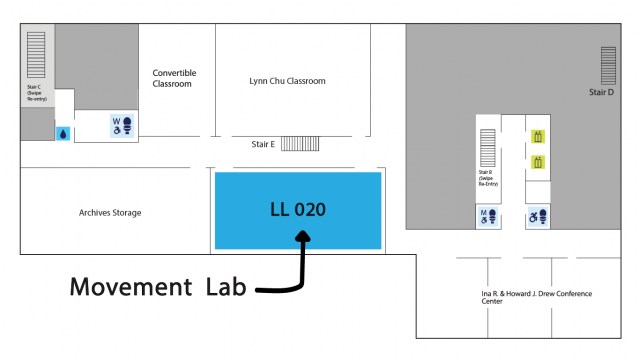 For a more accessible map, please use the text-only library guide. 
Image