Fall 2020 Update:
The Lab's physical space is currently open only to people with approved access; however, we are open for virtual collaborations and all of our events are free and open to the public. Please reach out via email at movement@barnard.edu to let us know how we can best assist you. 
Acknowledging how difficult this time is for all of us and hoping to uplift and support students and artists creating work during this time, we will be hosting Virtual Consultations every Friday from 11:00am-noon. These consultations are modeled after our in-person Open Lab and are meant to be a shared time for experimentation and exploration with the guidance of our lab's artistic and technical staff and the other artists who have dropped in! To best assist you and help us coordinate your interests with the availability of our staff members, please fill out this form and you will be emailed a link for the Virtual Consult.
---
Please check the calendar below for our periodic Open Lab times. After hours, we are open by special arrangement and as per project.  Please note reservation and calendar availability.
Open Lab is shared drop-in hours where everyone is welcome into the lab for experimentation and exploration.  Come talk with the lab's artistic and technical staff, do independent work, dance, meditate, utilize the lab's technology (including motion capture, VR, and film) – share the space with other artists and thinkers!
Please kindly note the lab is not a rehearsal space, and functions as a laboratory for investigation and inquiry at the interface between human movement, performance and technology.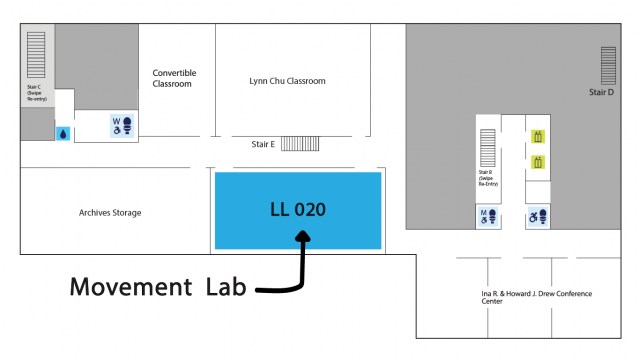 For a more accessible version, please use the text-only library guide. 
If you are interested in reserving this space, please fill out this booking request form. Contact movement@barnard.edu with any questions.
Calendar