The Lab space is closed until further notice. While this is a challenging time for all of us, we urge you to try to reframe this crisis as an opportunity to focus on reading, writing, thinking, and being creative.  Let it also be a reminder of our established wellness practices: washing your hands properly, getting enough rest, eating well, making time to care for yourselves and your families, and now, staying as socially/electronically connected as possible while you distance yourselves physically. 
Please reach out to our artistic and technical staff so we can continue to work together on experimentation, consultation, and project development as we get through this and transition into the next exciting phase.
Please check the calendar below for our periodic Open Lab times. After hours, we are open by special arrangement and as per project.  Please note reservation and calendar availability.
Open Lab is shared drop-in hours where everyone is welcome into the lab for experimentation and exploration.  Come talk with the lab's artistic and technical staff, do independent work, dance, meditate, utilize the lab's technology (including motion capture, VR, and film) – share the space with other artists and thinkers!
Please kindly note the lab is not a rehearsal space, and functions as a laboratory for investigation and inquiry at the interface between human movement, performance and technology.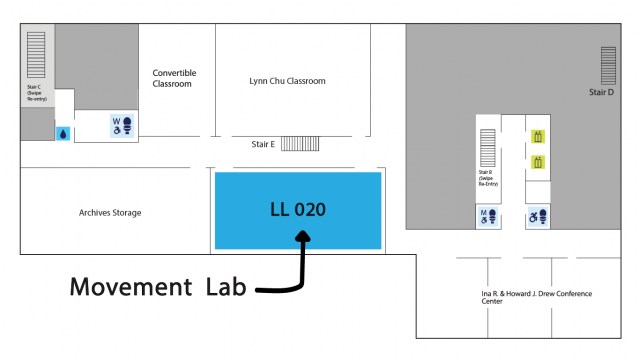 For a more accessible version, please use the text-only library guide. 
If you are interested in reserving this space, please fill out this booking request form. Contact movement@barnard.edu with any questions.
Calendar