Fall 2021 Update:
The Lab has re-opened for experimentation, consultation, and project development with a new hybrid programming model. Acknowledging the importance of engaging and connecting at your own pace and keeping safe, we look forward to engaging with you both online and in-person! 
---
Please check the calendar below for our periodic Open Lab times. After hours, we are open by special arrangement and as per project.  Please note reservation and calendar availability.
Open Lab is shared drop-in hours where everyone is welcome into the lab for experimentation and exploration.  Come talk with the lab's artistic and technical staff, do independent work, dance, utilize the lab's technology (including motion capture, VR, and film) – share the space with other artists and thinkers!
Please kindly note the lab is not a REHEARSAL SPACE , nor an EVENT SPACE and functions as a laboratory for investigation and inquiry at the interface between human movement, performance and technology.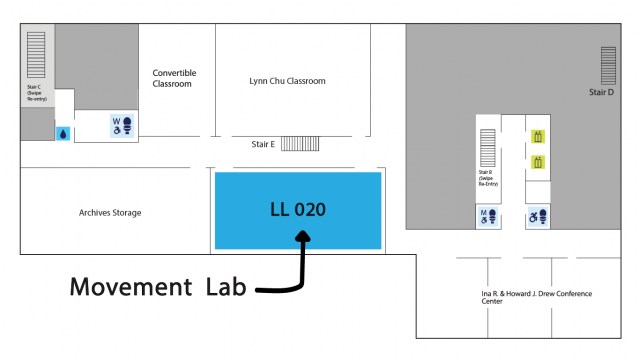 For a more accessible version, please use the text-only library guide. 
If you are interested in reserving this space, please fill out this booking request form. Contact movement@barnard.edu with any questions.
Calendar