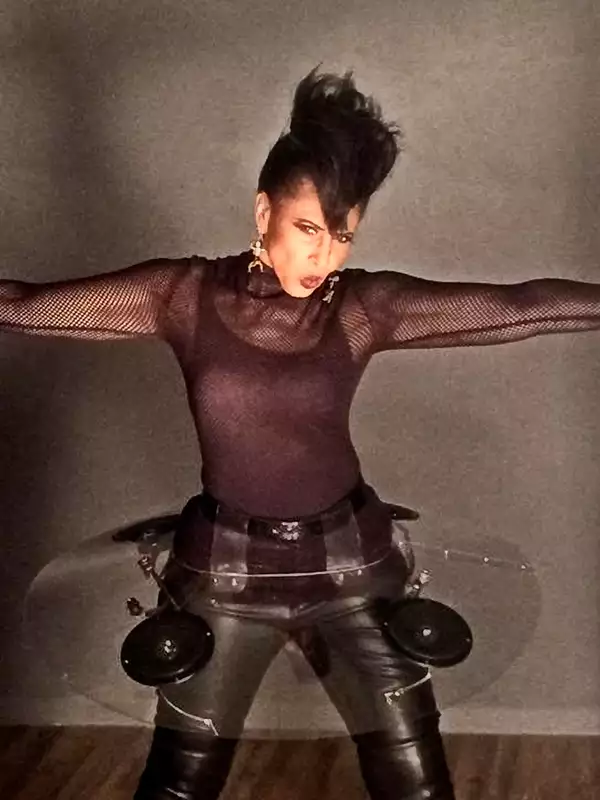 Nona Hendryx
Artist-in-Residence, Fall 2021 - Spring 2022
Nona Hendryx tackles social issues, love and politics with a smoky vocal between funk and the end of the stratosphere. Hendryx's legendary career spans six decades of sound and style evolution. Fans know her as a founding member of the girl group, Patti LaBelle & the Bluebelles, (with Sarah Dash, Cindy Birdsong and Patti LaBelle,) known as "the Sweethearts of the Apollo Theatre" and inducted into the R&B Hall of Fame in 1999. In the 70s, the group morphed into the Rock & Funk Glam Diva's 'Labelle' with the #1 record, Lady Marmalade.  Nona Hendryx emerged as the chief songwriter of the group's socially conscious and illuminating message songs. If Labelle fans grieved the end of Labelle, Nona Hendryx fans welcomed a new one as the revolutionary art-rock, new-wave goddess embarked upon her own impressive Solo career, which spanned eight studio albums and engaged her with an impressive lineup of collaborators (Prince, Peter Gabriel, Talking Heads, Laurie Anderson, Bono and Cameo), resulting in top ten hits and a Grammy nomination (Rock This Houses with The Rolling Stones' Keith Richards on guitar).
Fast forwarding into the 20th and 21st century's without losing a note (or gaining a pound) Nona Hendryx remains the Queen of Transformation; writing music for theatre, a play with music, 'BLUE' written and directed by Charles R. Wright and starring Phylicia Rashad for Arena Stage and the Roundabout theatre in NY.  'Blue will be revived with Phylicia Rashad directing, at The Apollo Theatre in the Spring of 2020.  Composing music for film (the Lee Daniels 2010 Oscar-nominated Precious), producing and collaborating in the works of a new generation of artists as well as cowriting songs and appearing on the Terri  Lyne Carrington Grammy Award winning, Mosaic Project with Esperanza Spalding, Cassandra Wilson, Diane  Reeves and Sheila E.).  An activist and vocal supporter for women's rights, social, political and criminal justice.  Helping to raise funds and awareness of HIV/AIDS from the outbreak of the epidemic and still involved today.  Dreaming of being an educator because of her English Teacher and mentor Mrs. Lottie Dinkins, Nona worked with education organizations supporting women in prison, a school in Chicago founded by Monica Haslip, Little Black Pearl, taught Stage Craft at The Clive Davis Recording Academy and founded in 2016 her own Non Profit, SisterSMATR.org to bridge the gap in Science, Math, Art, Technology and Robotics for young women of color ages 14 to 18.
Nona added Ambassador for Artistry in Music at Berklee College of Music in Boston to her career. Working across three departments; Music Ensemble, Music Theater and Berklee's Electronic Production and Design Department with the guidance of the EPD Chair Michael Bierylo and co-Chair Michele Darling.  Nona recently made her directorial debut, collaborating with Berklee's Dr. Richard Boulanger, Akito Van Troyer and Students, the poet Soul Flower and Hank Shocklee (Public Enemy music producer) and Will Calhoun (Living Color Band).  Nona's developing a new work with the European Multi Media artist Chagall (Mi.Mu Gloves) to create an interdisciplinary performance, 'A Rose Out Of Concrete', 'Digital Forest' and 'The Dream Machine', a trilogy with the merged schools, Berklee College and Boston Conservatory including the Conservatory's Hip Hop Dance students choreographed by the Hip Hop dance professor, Duane Holland.
Hendryx presented multimedia performances at MoogFest and MASS MOCA collaborating with Visual Artist, Nick Cave (Until and The Let Go).  She created and directed 'The State Of Grace' a celebration of the artist Grace Jones, performed in the cavern like Drill Hall in The Park Avenue Armory for Theaster Gates 'Black Artist Retreat.  Having made yet another transformation into a multimedia CyberDiva; 'Cyboracle', Hendryx still writes music across genres with politically and socially relevant lyrics wrapped in neo-funk grooves, other worldly sound designed music, soulful vocals and art-rock charged rhythms.  Performing in and writing a song 'Grace' (Trust and Believe) for Carrie Mae Weems' Grace Notes marked the beginning of another artistic collaboration.
Not slowing down, 2021 has been even busier for Nona on an offline after the honor of being Joe's Pub's first Vanguard Residency Artist and curating a series of shows over twelve months in 2019 along with a commission to create new interdisciplinary work inspired by Carrie Mae Weems 'Kitchen Table and Ulysses Dove's 'Urban Folk Dance' titled, 'Refrigerated Dreams',  becoming the 2020 Artistic Director for Harlem Stage curating a series of events exploring Afrofuturism and Speculative Fiction simultaneously presenting panels and performances as Visiting Scholar for Berklee's Africana Studies department, Berklee's Electronic Production and Design department and Boston Conservatory theater and dance departments.  Seeking the challenge of another form of communications Nona created a SiriusXM Radio show 'The Nexus with Nona Hendryx' discussing Music, Art and Technology with famous guests, Nona's three passions, creates and produces Rock Solid Women and Rock Sacred Women online music spoken work and visual art programs featuring women of color and LGBQTIA artists.  As of June 2020 Nona serves on the board of the Flea Theater as co-interim chair of the board and joined the new organization Live Music Society a grant giving, not for profit, supporting and sustaining live music venues through the pandemic effecting us all.  Nona has served on the Board of 'Black Pearl Little Black Pearl Art & Design Academy a 12k and up school founded by her friend Monica Hasilip on the Southside of Chicago, serving students in 9th -12th grades for many years.
Agent: Joy Collingbourne (joy@mobagency.com)
Press: Irene Gandy  (irene@jrabroadway.com)