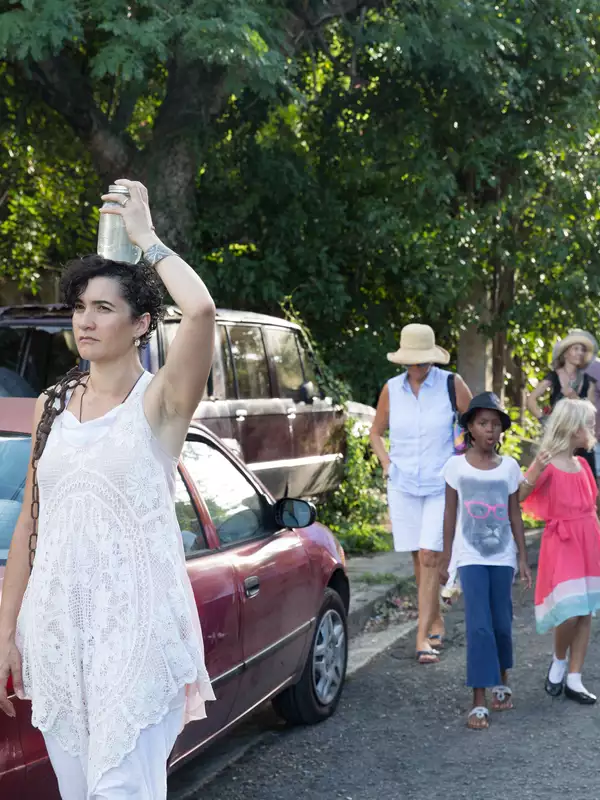 Angela's Pulse
Company-in-Residence, Fall 2020 - Spring 2023
Angela's Pulse creates and produces collaborative performance work dedicated to building community and illuminating bold, new stories. Angela's Pulse provides a home for interdisciplinary collaborations that thrives on both politics and play, and is committed to developing timely performance works that provoke, inform and inspire. Co-founded in 2008 by Paloma and Patricia McGregor, Angela's Pulse was named for their mother Angela, an artist, teacher and activist who continues to inspire their work. 

Angela's Pulse is a Black-led, artist-led organization. Their leadership in the field includes their core community-building initiatives Dancing While Black, Building a Better Fishtrap and the newly formed North Star Arts Incubator, a cohort of nine artist-activists who are visioning moving the field beyond "diversity, equity and inclusion" and toward liberation. 

Over the course of a decade, the New York-based organization has produced performance work by dozens of artists (from New Orleans to the Bronx), supported 22 emerging Black dance makers through their Dancing While Black fellowship program, and published a landmark digital journal dedicated to the voices of Black experimenters. 

In a system and field that emphasizes end-products and individualism, Angela's Pulse focuses instead on process, developing relationships that create and connect communities over time. They have worked in deep partnership and collaboration with values-aligned organizations, including BAAD! The Bronx Academy of Arts and Dance, NYU's Hemispheric Institute of Performance and Politics, PURPOSE Productions and New Orleans-based Junebug Productions. 
process oriented – Angela's Pulse believes in dialog and experimentation as both means and end. They center the authentic over the predetermined. They allow for trust and growth to develop as a result of spending time, challenging assumptions and inherited notions, digging in and working from joy.
collaboration based – Angela's Pulse believes we are better together. They value individual assets, voices, histories, and the potentials they hold when activated in service of a vision larger than any one of us.
community centered – Angela's Pulse believes that communities – of geography, practice, values, identity – are themselves powerful creative acts. They honor that power by practicing community-building and community-bridging.
anti-racist – Angela's Pulse believes that racism is the glue that holds all of our dehumanizing and oppressive systems in place. They work with rigor and love to consistently practice undoing the impacts of racism on themselves as individuals, as a team and as collaborators with others.
embodied – Angela's Pulse believes the body offers the most powerful, intimate opportunity to transform values into action. They center practices that allow them to tap into their embodied intellect, push beyond their known limits and animate their visions.
During their 3-year-residency, Angela's Pulse will expand their creative and organizing capacity by exploring Movement Lab's unique technological resources - including film, VR and Motion Capture. This opportunity comes as AP enters into a collaborative call-and-response with organizers on McGregor's home island, St. Croix, as it struggles to stave off disaster capitalism after the 2017 hurricane season. The work at the Movement Lab will be grounded in the pillars of AP's practice: The Understanding & Undoing Racism principles of New Orleans based The People's Institute for Survival and Beyond; Urban Bush Women's Entering, Building and Exiting Community framework; and Angela's Pulse's Shared Practice and Fishtrap Method models.
Year 1 - Entering

Listening tour to get to know community, students, space
Exploring technology in the Movement Lab - particularly in relationship to Building a Better Fishtrap
Facilitating Story Circles, Shared Practice, Fishtrap Method workshops
Co-Hosting PISAB Undoing Racism training
Developing core Angela's Pulse Programs: Dancing While Black and North Star Arts Incubator
Surfacing Process & Learning through Culminating Sharing
Surfacing Goals for Year 2, and Establishing Next Steps

Year 2 - Building

Developing interdisciplinary/interdepartmental partnerships, and establishing core collaborators
Deepening and integrating technology in the Movement Lab into Angela's Pulse creative and organizing processes
Developing and deepening relationships through Story Circles, Shared Practice, Fishtrap Method workshops
Deepening anti-racist organizing/principles in practice
Developing core Angela's Pulse Programs: Building a Better Fishtrap, Dancing While Black and North Star Arts Incubator
Surfacing Process & Learning through Culminating Sharing
Surfacing Goals for Year 3, and Establishing Next Steps

Year 3 - Integrating (Exiting)

Deepen interdisciplinary/interdepartmental partnerships with core collaborators
Continue deepening and integrating technology in the Movement Lab into Angela's Pulse creative and organizing processes
Develop creative work and relationships through Story Circles, Shared Practice, Fishtrap Method
Deepening anti-racist organizing/principles in practice
Developing core Angela's Pulse Programs: Building a Better Fishtrap, Dancing While Black and North Star Arts Incubator
Surfacing Process & Learning through Culminating Sharing
Establishing Next Steps