We host Pop Ups from our community and guest artists alike. These can range from performances to installations to long-table discussions. 
Our modular space provides a wide range of possibilities for artists and encourages them to share their work in a dynamic and innovative way. With immersive projection, lighting, and sound, as well as motion capture and VR, the Movement Lab is well equipped to host multimedia arts installations. Our open space is also the perfect place for people to gather to view work-in-progress showings or have discussions exploring topics around movement and technology. Please contact us if you are interested in creating such an event and check out our past pop ups below. 
Upcoming Pop Ups
Stop by the Milstein Center Movement Lab (LL020) on February 10, 2020 from 11am-6pm for a multimedia experience of words, sounds and images celebrating Ntozake Shange's works and influences.
This event will be followed by a discussion entitled "'Creation Is Everything You Do': Ntozake Shange, The Sisterhood, and Black Collectivity" on February 20th about Shange's role in the Black woman's literary group that revolutionized literature, publishing, and theater in the 1970s and 80s, held in the James Room of Barnard Hall at 6:30pm.
Past Pop Ups
On October 25th, Artist-in-Residence Cari Ann Shim Sham's student's from NYU shared interactive installations with the Movement Lab during the monthly Motion Release.
Featuring a Lonely Disco by Kiara Narvaez, Durational Performance by Luca Renzi, Interactive Overhead Projection by Ori Flomin, and a Live Feed Camera Light Loop by Cari Ann Shim Sham.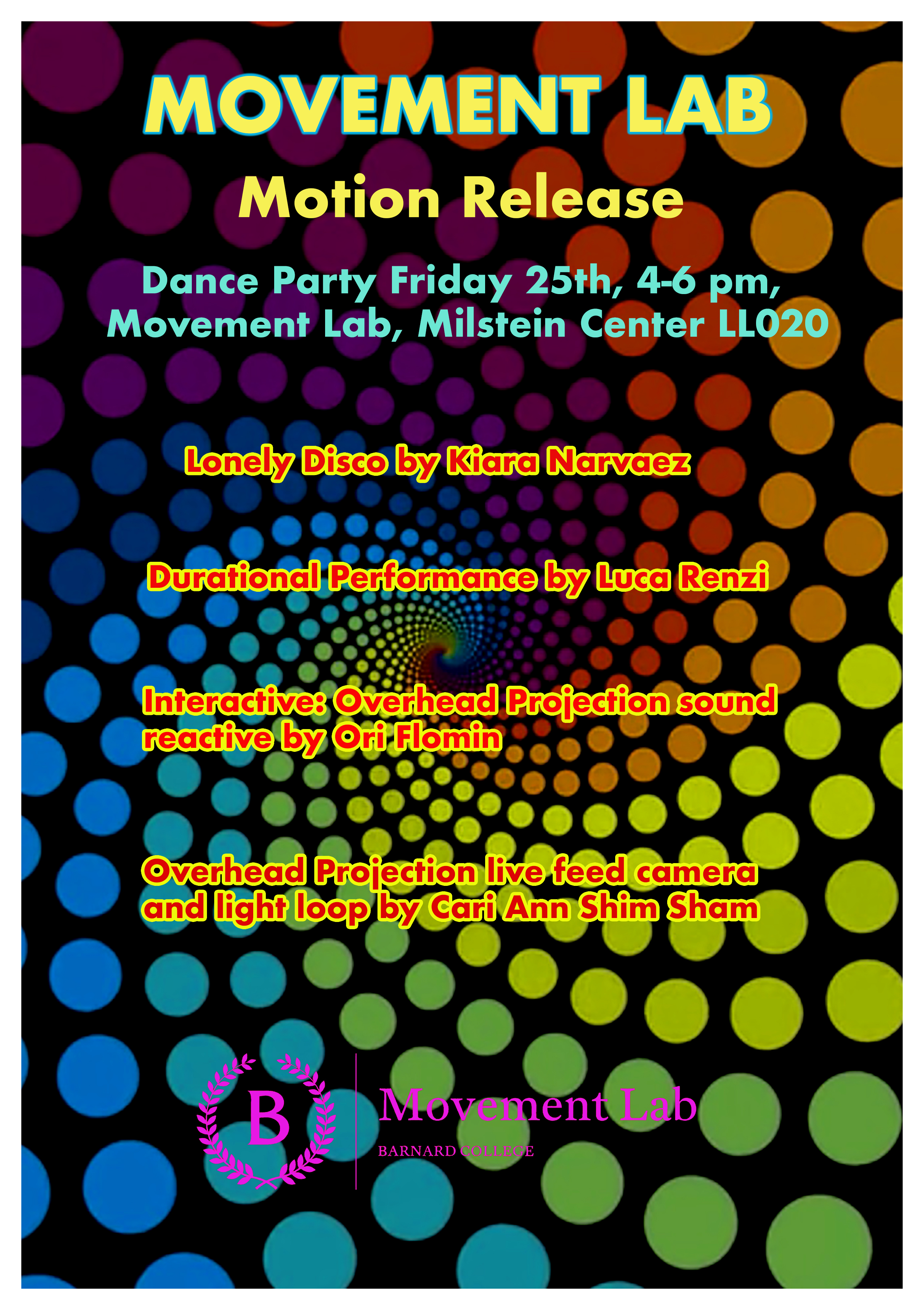 On May 3rd, Professor Mimi Yin's Coding Choreography class, conducted as a joint Barnard College - NYU ITP program, presented work explored throughout the semester in a final showing of choreographic/computer interactive performance.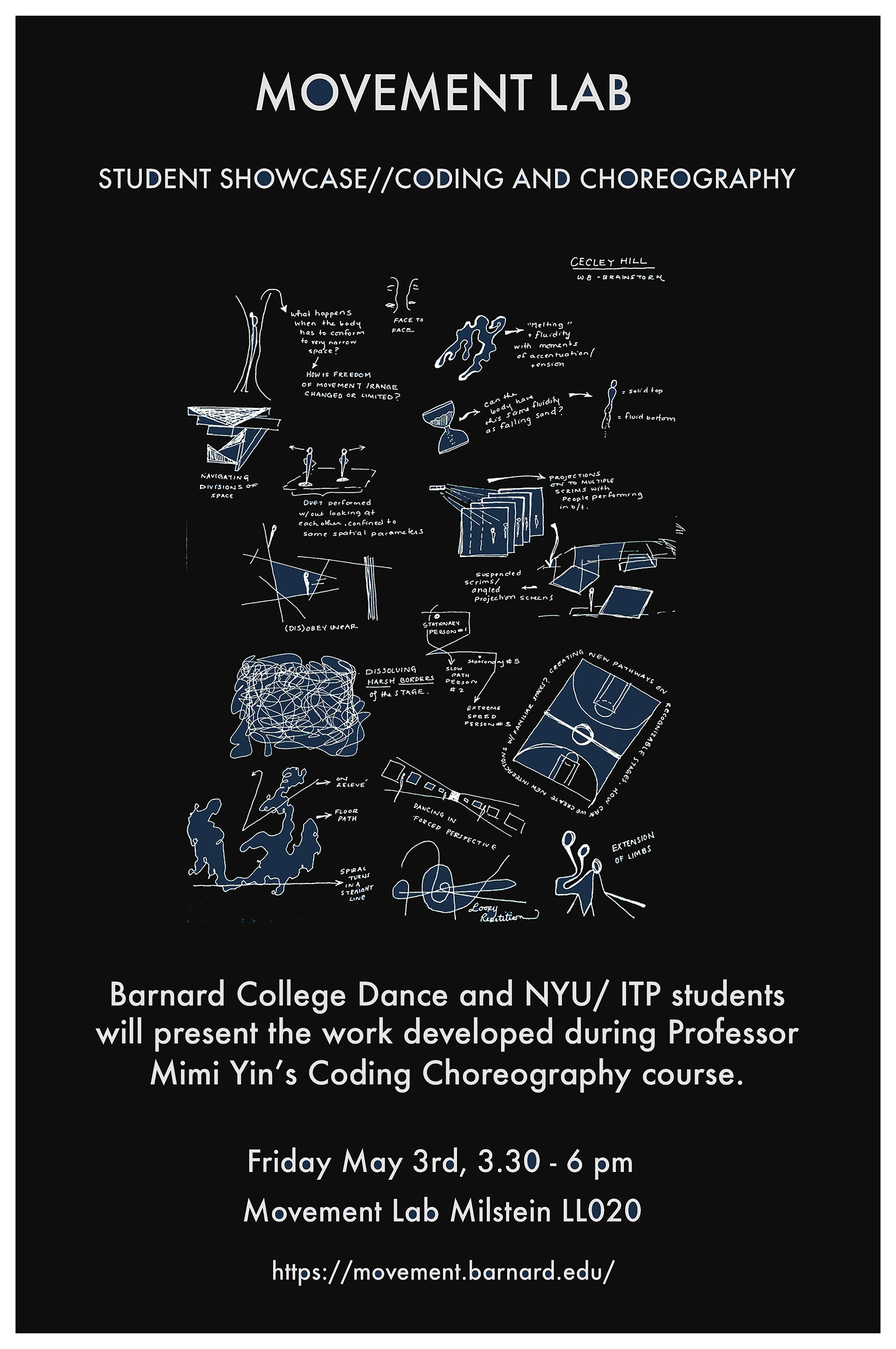 The class was broken into groups, each consisting of two Barnard/Columbia students and two NYU ITP students, resulting in 5 roughly 20 minute long performance installations. The showing on the 3rd is the second of two performances of these works, the first taking place at NYU the week before. Having to adapt the pieces from the NYU performance space to the Movement Lab and navigating the intricacies of each space is a part of what the Coding Choreography class focused on and discussed, and thus is an integral element of the installation.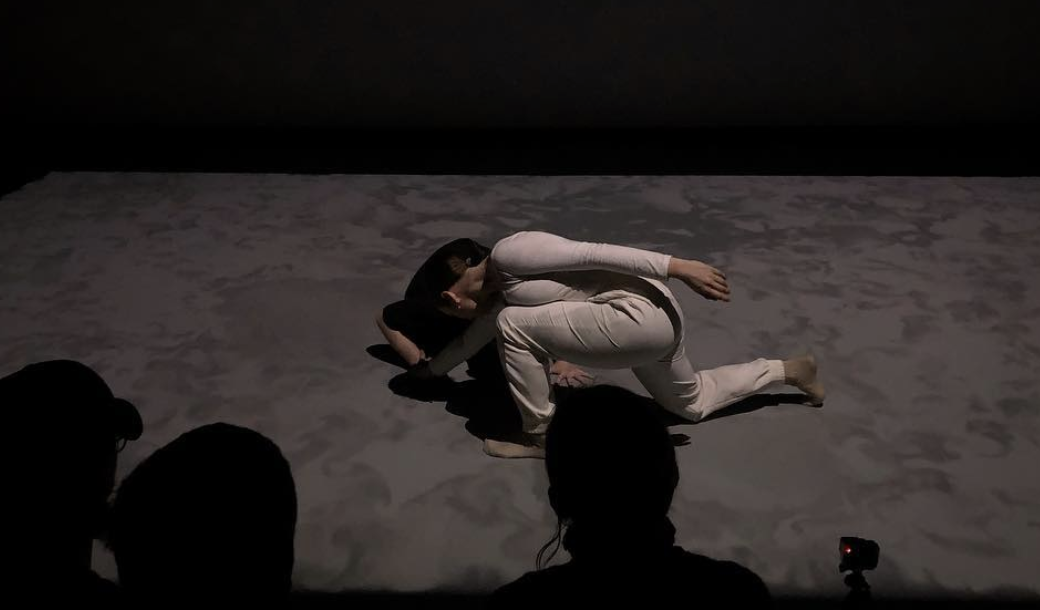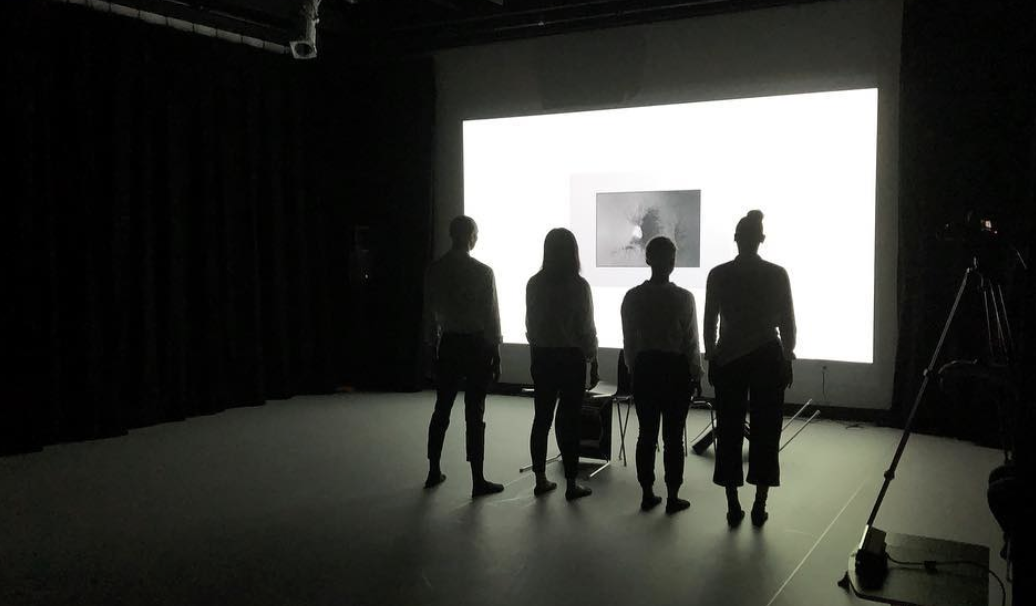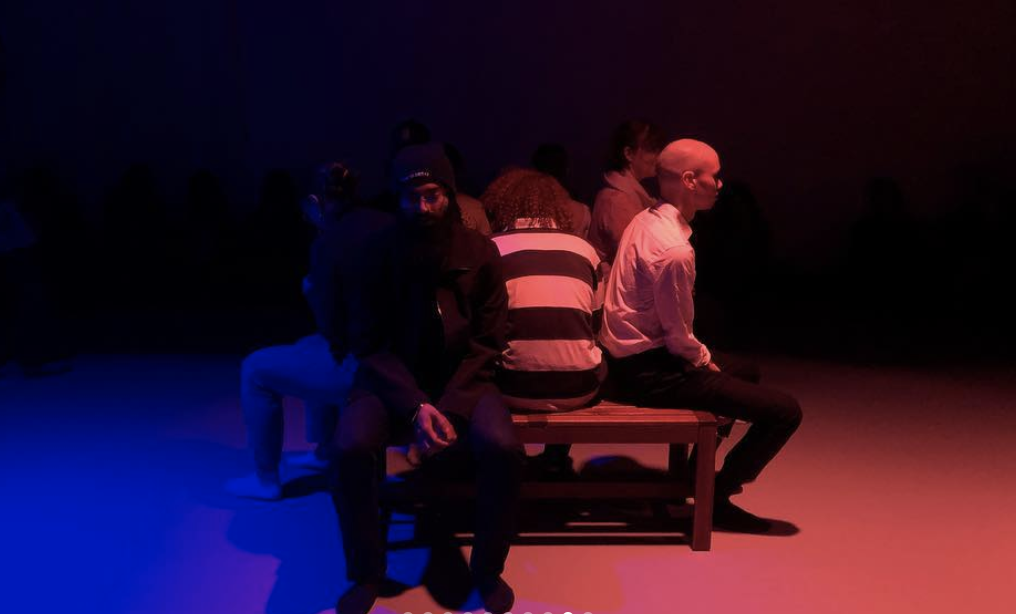 "On March 7th, the Movement Lab became the location for Ratrock's uniquely interdisciplinary and multi-sensory Winter Featured Artist Show, putting the work of dancers and performers in conversation with painters and architects. The show brought together works by Sarah Courville, Nathan Farrell, Kosta Karakashyan, Gisela Levy, Calvin Hsiao-Sen Yoshiki Liang, Taelor Scott, Miles Zhang, and Anton Zhou....
Walking into the Movement Lab in the lower level of the new Milstein Library felt like entering an alternate universe.... Cushions were piled into two organic, irregular shapes becoming low seats to sit and face the screens and glowing sculpture at the center of the room.... Featured artists' work was blown up to a massive scale on the lab's projectors. Since there were multiple screens, the images could be viewed simultaneously side-by-side. Whereas usually the process of looking at art involves isolation - you move from piece to piece, you keep your attention focused exclusively through sight, and the silence of a gallery. At this show, it was almost impossible to resist taking in multiple pieces at a time. ...
The space is equipped with technology that enables creative possibilities: an intensive lighting set-up, for instance, painted visitors' faces with bright colors. Most visitors migrated and clustered in groups and chatting throughout the show, dying down when one of the multiple live performances began.... All of the elements came together - the music, the bright lights, the space's physical separation from the academic stress of campus, the act of sitting on the floor barefoot with strangers - and cultivated a sense of otherworldly-ness and gave me an almost childlike joy. Art shows like this are one of the few moments when Columbia students are brought together by something other than schoolwork.
Throughout the night, Kosta Karakashyan, a Ratrock featured artist and the movement lab's [student] artist-in-residence, both alone and with other student dancers, began to perform short excerpts of choreography from a showcase in the center of the space. His movements often started out subtle - you might miss them if chatting with a friend or looking at the projected paintings. But gradually they gained dynamism and drew the focused attention of all the visitors. The dancers' casual outfits, blending in with those of the gallery goers, lent an element of spontaneity to the performance.... And given the multimedia nature of the show, it was impossible to fully separate the dance floor from the gallery. The nature of the projections meant that theoretical intersections between different pieces became real and physical - like when Kosta's body passed in front of one of Sarah Courville's collages and the piece was projected onto his skin. Putting these analytic images of human bodies next to Kosta's living, breathing, sweating works of art demonstrated just how many different ways art can tackle the same subjects."
Text written by Zoe Sottile, thanks to Ratrock Magazine